Got a WordPress website? Is it GDPR compliant?
We can make your website* meet the standards required by the EU's new GDPR legislation.
Making sure your business complies with the new requirements for the GDPR (General Data Protection Regulation) is a big task – it has changed how most businesses store customer information, communicate with clients past and present, chase new leads, and more.
Updating your website to comply with GDPR might seem like an afterthought, or might not even have occurred to you, particularly if you do not sell products online. But you might be surprised how much personally identifiable information your website handles, stores or processes.
Does your website . . .
Use analytic services like Google Analytics or Facebook Pixel to see how visitors use your website?
Have a contact form or checkout that collects names, email addresses or other personal information?
Display third-party content such as Google Maps, Youtube videos or a booking form?
Allow visitors to sign up to a newsletter?
Serve tracking or marketing cookies?
Allow users to register an account?
Then the GDPR applies to you!
From making sure your privacy policy mentions everything it ought to** to knowing exactly what cookies your website delivers, we can help you stay on the right side of the law.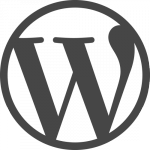 * At present we are only offering this service for websites that use WordPress as the CMS. If you're not sure whether your website uses WordPress, please get in touch and we can let you know.
** We are not legal experts and we don't know every detail about how your business handles or stores personal data – therefore we recommend you also consult a lawyer to make sure your privacy policy is 100% correct.
We will examine your website inside and out, and we'll tell you what needs added or changed to comply.